Good morning everyone,
I'd like to start out today's update (prior to my complaints on the weather...again), with one of the reasons why I love this job....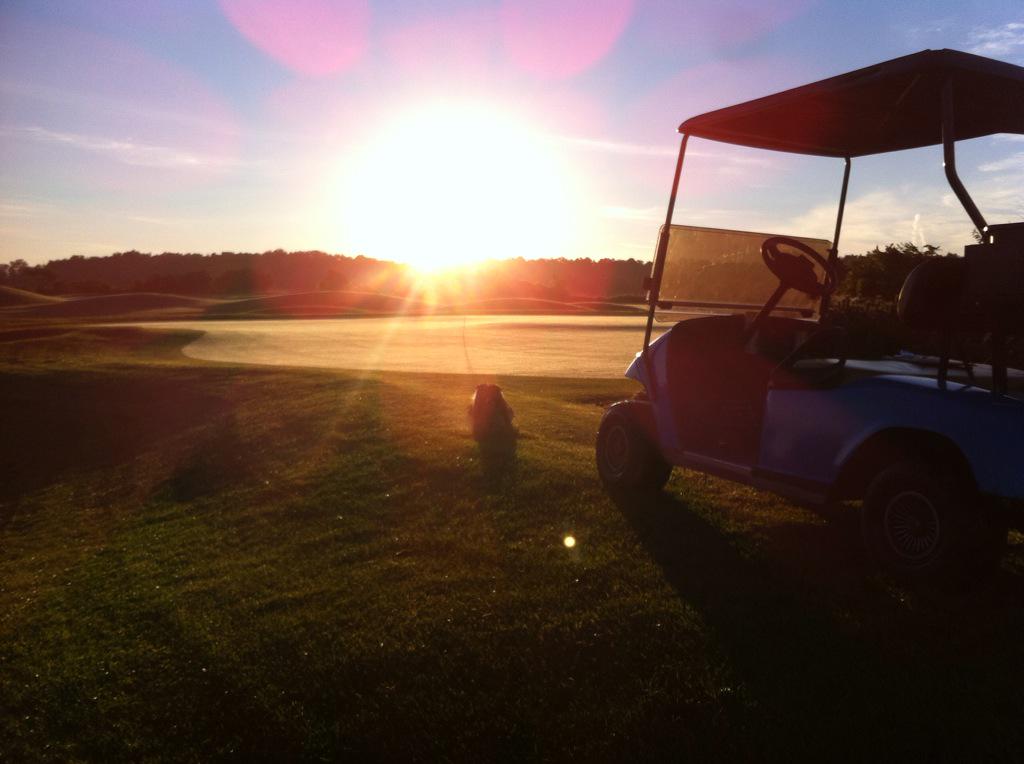 No matter what it is that Mother Nature throws at us, it is days like this that really make me appreciate my office environment.
Since the 25th of May when I last updated the blog with the conditions of the course, we have been treated to 7 days of rain, totalling 118 mm here at The Saw. That is 106 mm more than we had received in the entire month of May. So in case you are just catching up to speed on the blog, and you read that it is dry, you can ignore that!
A wet golf course brings about different challenges than a dry golf course. Just 3 weeks ago, we were in conservation status, trying to ensure that we had enough water to get through the season. Now, we are trying to get rid of water, as we are filled to the brim.
Of course a wet golf course means bunker issues. It has been a constant battle of trying to keep them playable this month, as we have made many efforts to keep them dry and without standing water in them, only to have another storm pass through and delete all of our efforts in an instant. It has been a trying month, especially for our bunker man Adriano, but he has worked diligently and tirelessly to keep the traps playable.
A wet golf course will also mean ball roll will significantly decrease. Because we cannot control the moisture levels of our putting greens when we are this wet, they will inevitably slow down. The are soft, they are growing rapidly, and are very susceptable to ball mark damage.
Another side effect to a wet golf course is grass clippings....which are everywhere. From tees, to fairways and rough, the course is full of them. We are currently experiencing the spring flush of growth that we normally see in May. Throw in a couple of lost days to the extreme saturated conditions we had, and the inability to put machinery on the course, and you have a recipe for some US open style rough. Remember folks, we have not increased the height of cut in our rough. It has not changed in years. The turf is simply growing quickly.
Our beautiful, wispy fescue we had started the year with (while dry), has also seen a change due to the wet conditions. There are weeds actively growing, and trying to take hold in the fescue. There will be some attention given to this over the coming weeks.
I have been asked several times about the makeshift pond beside the green on 5. This was initially caused by the amount of rain we had received the last couple of weeks, and then further compounded by yours' truly.
During the latest round of rain we had, I had taken the opportunity to bring the system down to make a few repairs to some leaks we had. One of the steps in that process is to remove as much water out of the lines as possible, which involves opening up some pond fillers that we have on site. Unfortunately, once we had made the repairs to the line on #3, I had neglected to close the pond filler on #3 when I brought the irrigation system back online.
For about 24 hours, the pond filler blew out a full stream of water into the pond on 3, causing the overflow to run steady. This in-turn caused a backup on 5, and a lovely water feature that extended through the bunker, and down the apron. I know some of you commented on how you thought the pond brought in an added challenge to 5, but unfortunately, and much to the chagrin of the family of ducks which took up residence there last night, this pond should be gone in the next day or two.
As always, if you have any questions, please feel free to contact me at jamie.downton@sawmill-creek.com
Thanks for reading
Jamie